PowerPoint
PowerPoint templates in 16:9 format are available for external and internal presentations. The templates are designed to prevent information overload in presentations and to facilitate a balanced image-text ratio. ⁠Important basic settings such as font, colors and design are stored in the master slides.
A title page is the first slide of a presentation. It should contain the title and author.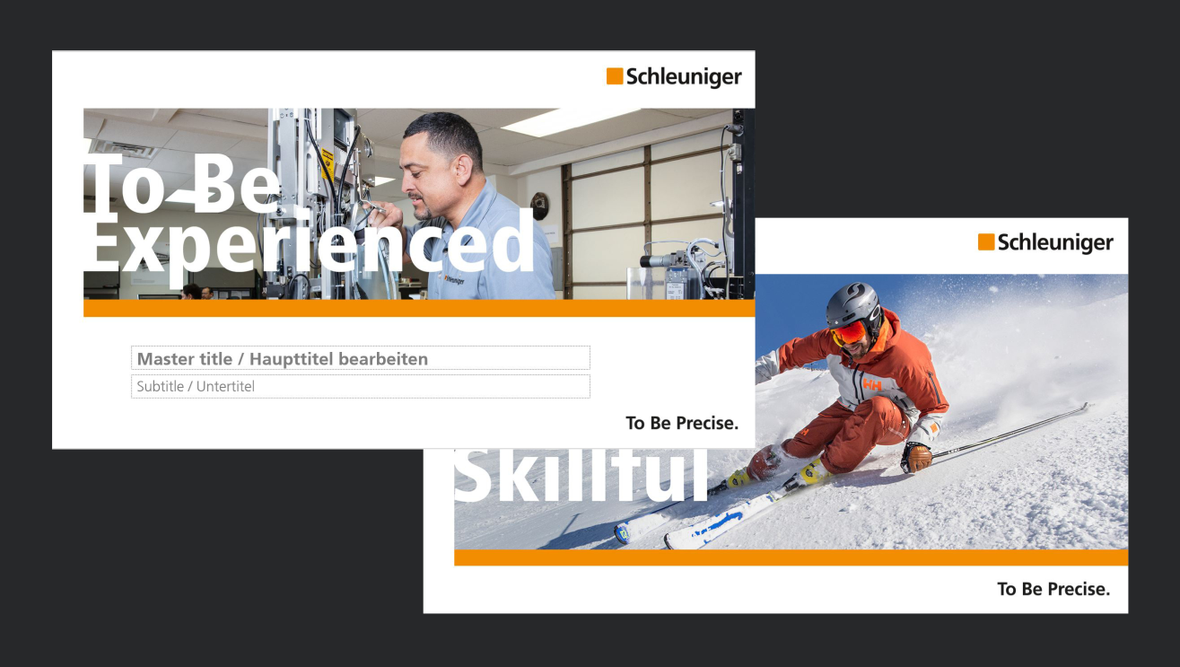 ---
Divider pages are available for separating sections or chapters of a presentation or for highlighting keywords or quotations.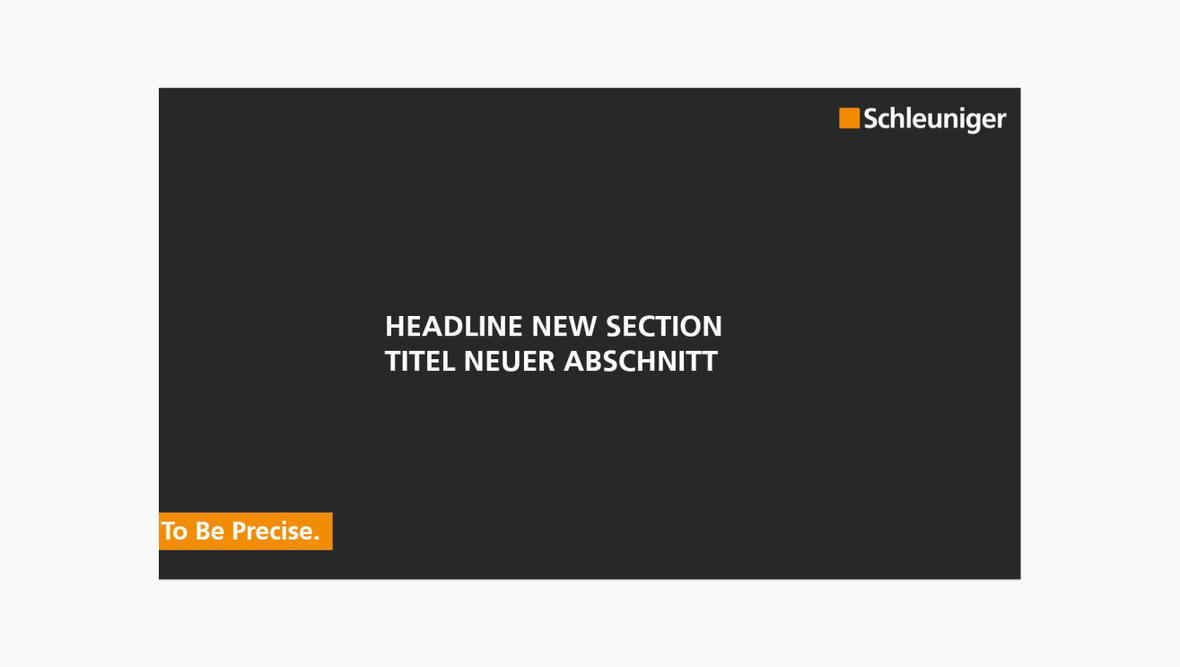 ---
The content pages are designed to facilitate a balanced presentation and prevent information overload. Various templates are available, ready for use depending on the image and text content. The following design rule applies: Image is given precedence over text, which should be reduced to the absolute minimum on each slide. It is better to have more slides with precise information than fully packed, illegible slides. Presentations will have more slides but will be easier to grasp and appear clearer.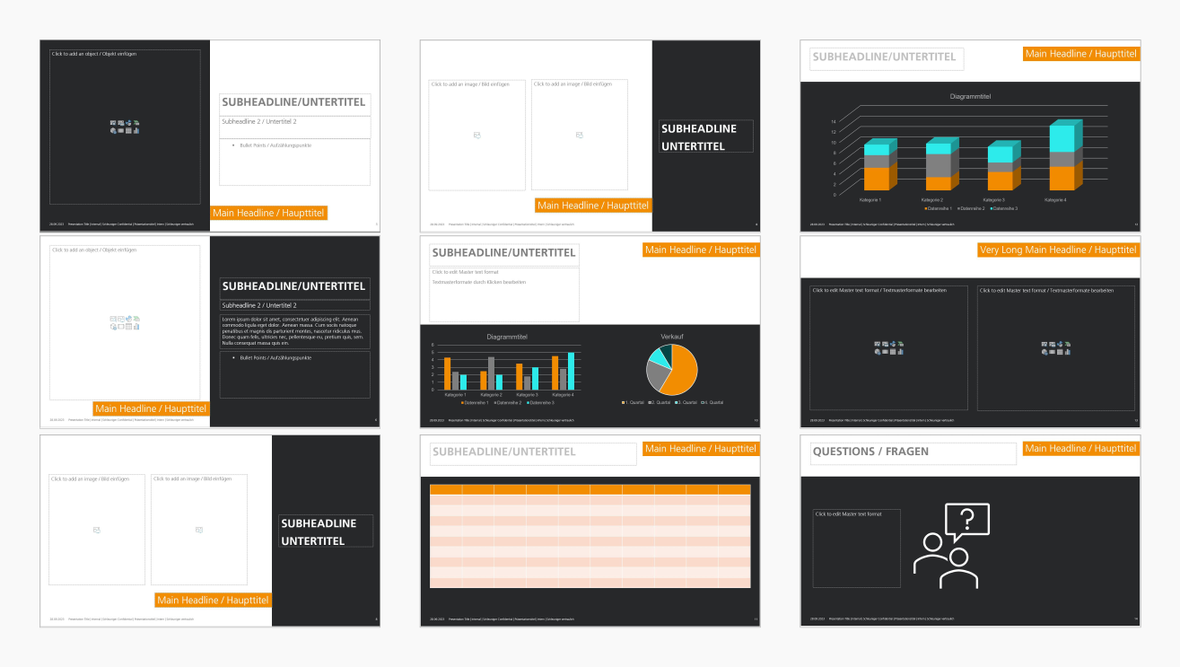 Font

Arial is always used as the font throughout the presentation. The specified formatting and size specifications must be observed.

Imagery

The positioning and size of each image should not be changed. To ensure this, a new image is inserted directly using the 'Change image' function.
---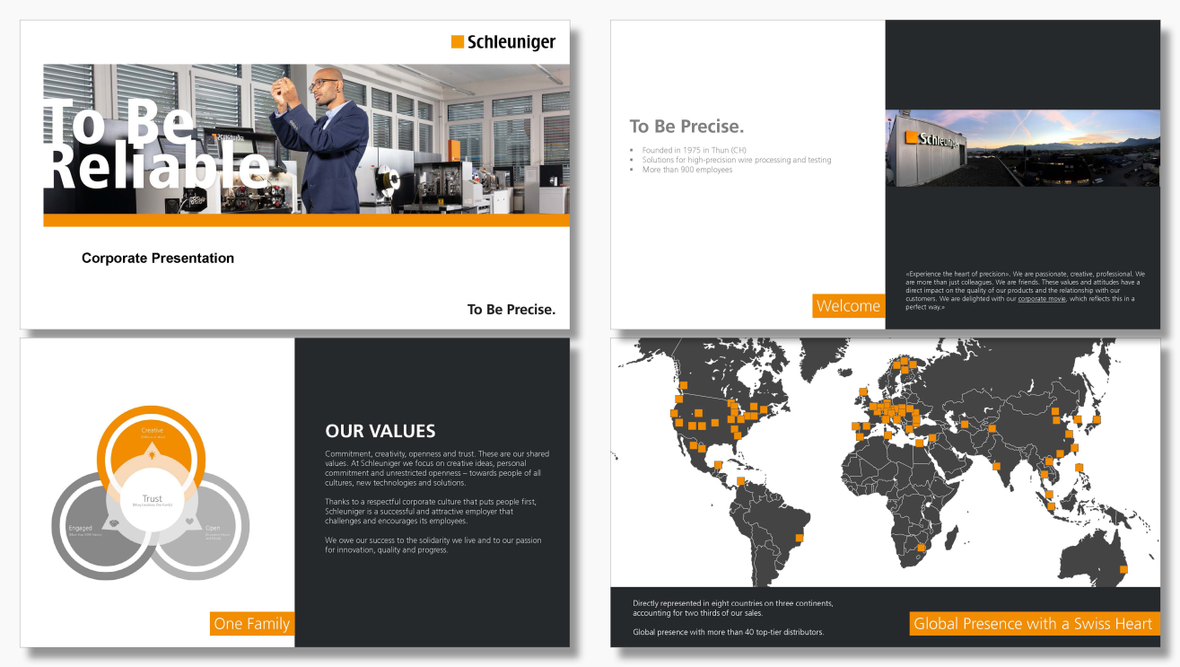 ---
The complete Schleuniger color palette may be used in PowerPoint. However, please be careful to create a harmonious color combination. It is recommended that you do not combine more than two colors, other than in graphs and diagrams. The master templates contain a color palette that is easy to use.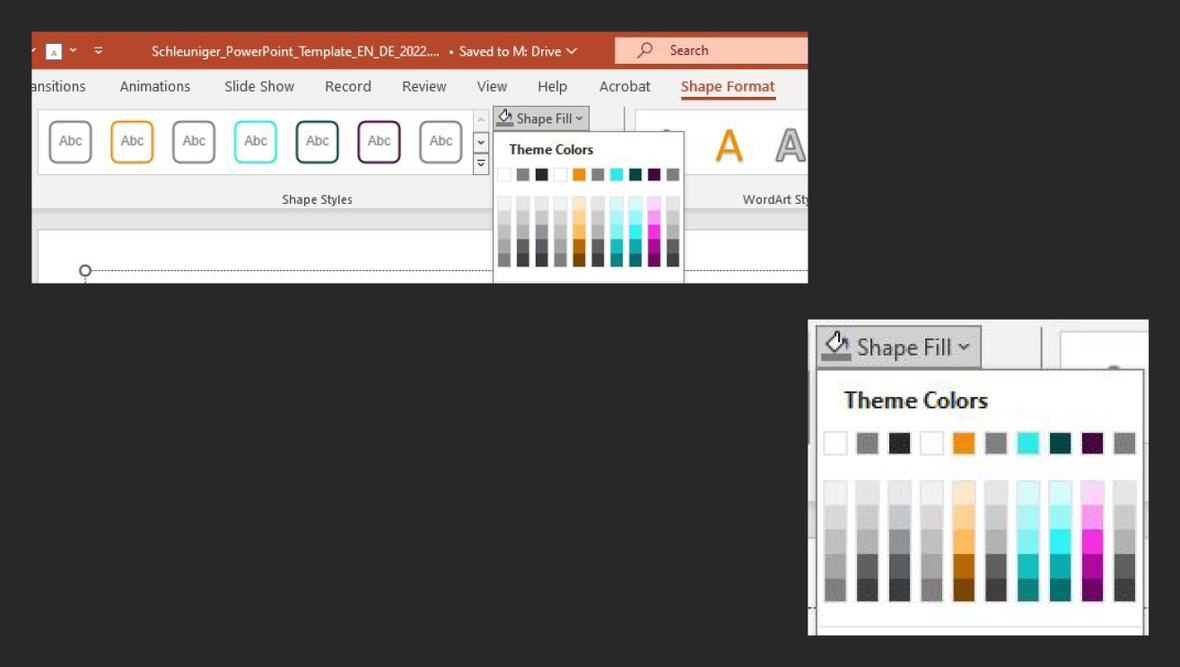 ---
We use the Frutiger font for PowerPoint. 
For the body text, we use 14 pt., for main headings we use 28 pt., and for subheadings we use 32 pt. and capital letters.

Use white text on dark backgrounds and dark gray text on white backgrounds.

We use the orange bar for main headings. Main headings should be short and to the point, so that they fit on a single line. Please adjust the orange bar to the length of the heading.

All fields are to be used as set by default.

Under the subheading, you have the possibility to insert bullets, a second subheading, or an introductory text. It is a flexible text field.

The bullets should be squares as on this page.

For every new chapter or section of the presentation, you can use the "New Section" slide.

Please avoid unnecessary animations and gimmicks that distract from the content.

"Less is more!" It is better to have more slides with precise information than fully packed, illegible slides.
Please keep graphics and SmartArt simple without shadows or other animations.

Note: Please only print a PPT presentation if absolutely necessary, and then preferably in toner-saver mode. In most cases, this presentation can be saved as a PDF file and given to customers, potential employees, etc. in digital format.