Talk to an Expert
CrX-44HD with Flex-Feed Smart Crimp Center for terminals supplied loose
Know how
Until now, there have been almost insurmountable obstacles for the automatic assembly of so-called heavy-duty (HD) cables, especially when terminals are supplied loose rather than on reels. The breakthrough came with the CrX-44HD and the Flex-Feed Smart Robotic System from Komax in Brookfield.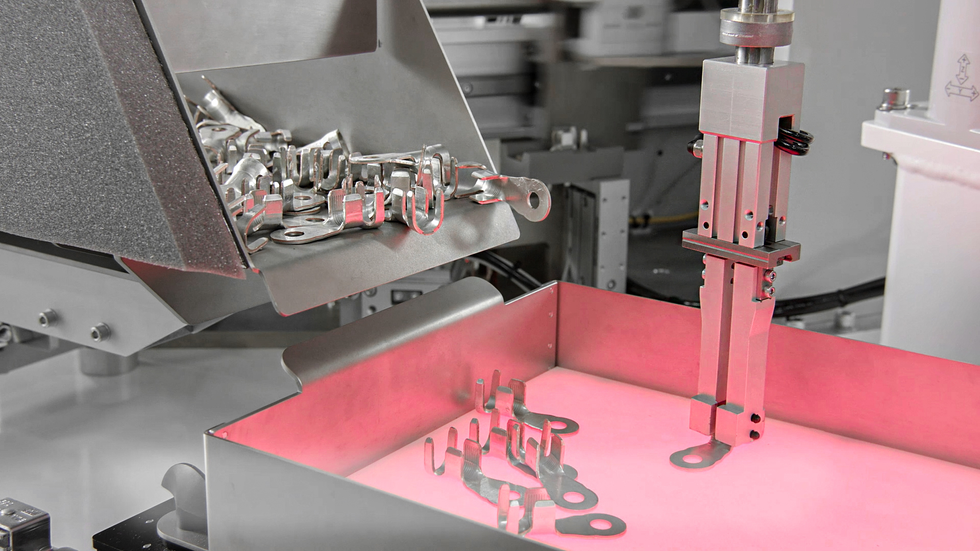 Key insights
Until now, loose terminals have made it impossible to assemble heavy-duty cables automatically.

Komax in Brookfield (Wisconsin/USA) made the breakthrough with a crimp center with visually controlled robotic feeding for the terminals.

This is very important for wire harness manufacturers. It not only improves productivity and quality, but also allows them to meet OEMs' constantly increasing demands for greater automation
The automated assembly of HD cables, i.e. those with cross-sections larger than 6 mm2/10 American Wire Gauge (AWG), is particularly demanding. They are used primarily for power distribution in automobiles with internal combustion and electric engines, motorcycles, motor scooters, special vehicles for earthmoving and agriculture, leisure vehicles such as pleasure boats, personal watercraft, all-terrain vehicles, snowmobiles, recreational vehicles (RVs), and lawn and garden equipment, to name just a few. This requires over one billion crimps worldwide each year.
Most of these cables are still assembled as they were 50 years ago: by cutting and stripping and then crimping manually. Why is automation in this segment so low compared to standard cables? There are two main reasons: production numbers and batch sizes that are too small as well as many terminals that are supplied loose rather than on reels.
Intelligent, visually controlled robotic feeding
The application engineering team at Komax in Brookfield developed an innovative solution to this challenge: The CrX-44HD with Flex-Feed Smart is a crimp center with visually controlled robotic feeding for the terminals. With it, you simply put the terminals into a feeding hopper. It feeds them to a vibrating orientation table that reorients them. A robot controlled by a monitoring camera places them in a conveyor nest for final orientation. From there, each terminal enters the crimp applicator oriented correctly, and then the wire is presented and crimped there.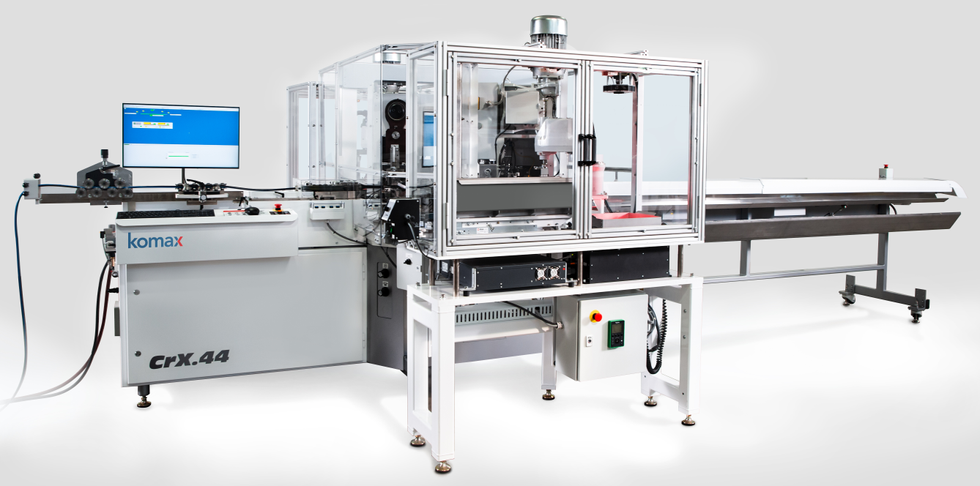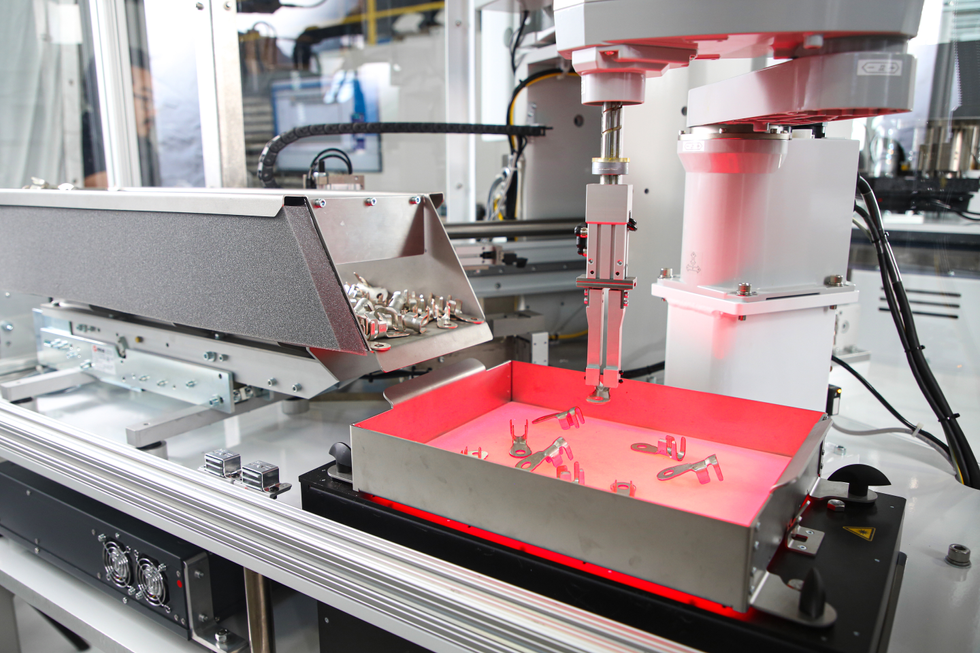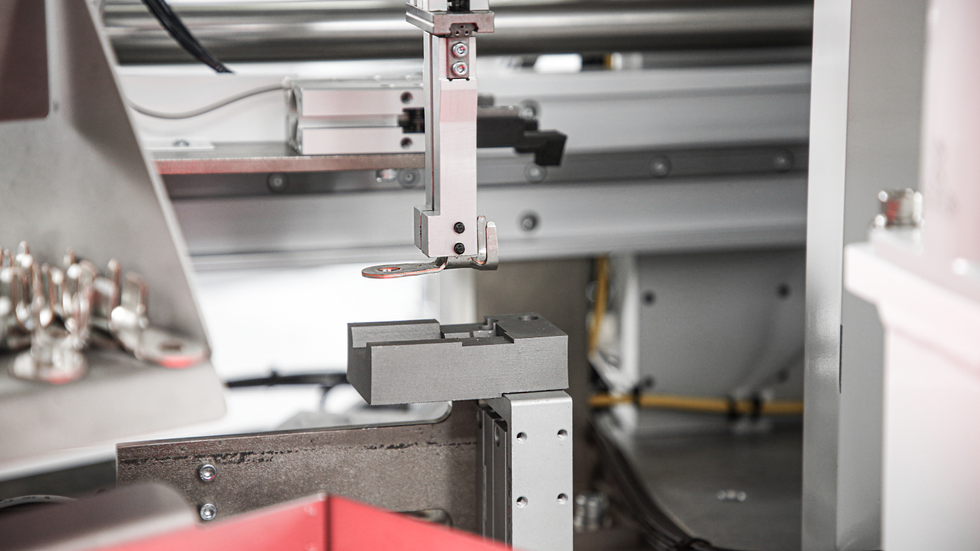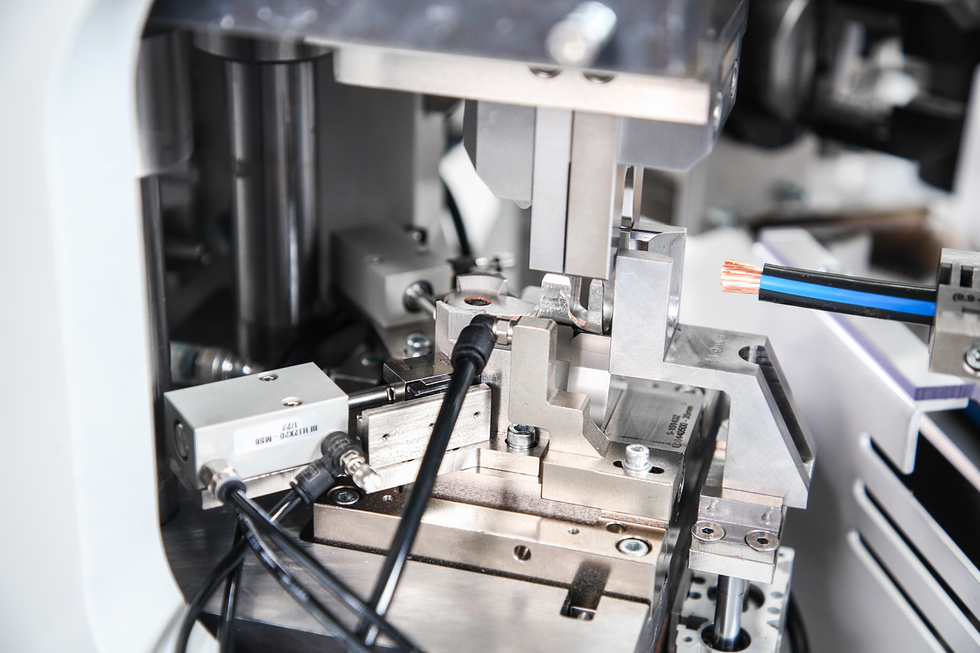 This flexible and standardized feeding of terminals is fully integrated into the crimping tools. Thus, usually just 5 components have to be replaced for the different terminal designs, a task that takes less than 7 minutes. Combine this with the fact that this integrated tool costs no more than a standard HD application, and thus you have to invest less as compared to traditional bowl feeders.
Several well-known customers are already benefiting from this innovation
Komax in Brookfield is currently working with several original equipment manufacturers (OEMs) in various industries using this design. A tier-1 European customer in the automotive industry uses it to process 35–50 mm2 wires and 11 different open-barrel designs, as well as for applying heat-shrink tubing. A welding company has an even larger combination of 22 terminals with open and closed barrels. Several machines have been ordered for shipbuilding, including a large marine engine manufacturer that processes 6 different terminals. What all these customers have in common is their desire to increase productivity and quality using smart automation. 
The CrX-44HD with Flex-Feed Smart therefore confronts the two most important challenges. First, it automates cable assembly even when terminals supplied loose are used. And secondly, because the conversion times between different terminal designs are so short, even smaller batch sizes can be produced automatically without any problems.
Automation is also becoming mandatory for HD cables
What are the benefits of automation in general? More and more OEMs from the automotive sector are insisting that HD cables be produced automatically for quality reasons. If cable assemblers can offer this, they are ahead of the competition. Automation also pays off because it is becoming increasingly difficult to find people who will do the work. 
Automation will continue to be the future for wire harness production. Companies that adapt quickly and incorporate new automated solutions will benefit from their market leadership. With the CrX-44HD with Flex-Feed Smart Robotic system, Komax is bringing a higher level of automation to yet another application segment.
Consistently tailored to customer requirements
The CrX-44HD is tailor-made to order according to the customer's specifications and needs. The best point of contact for interested parties is their Komax sales consultant. Together with the customer, the consultant defines the requirements, which results in a solution that will ensure long-term success.
---
Contact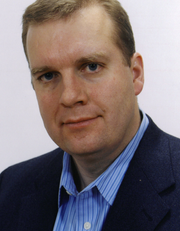 John has acquired over 33 years of experience in the wire processing industry. Currently leading our Brookfield, WI, USA location in the development of the Artos product line, John also leads the development of the Komax Application (AP) Business for North American markets.
---
Never miss a great Story
---