Talk to an Expert
Omega 745/755: fully automated wire harness production
Technology & Innovation
The new Omega 745/755 application machines complement the existing Omega 740/750 fully automatic block loader machines, which are basically identical in construction. Here, however, the connector housings are fed automatically. This additional automation leads to substantial savings in labor costs.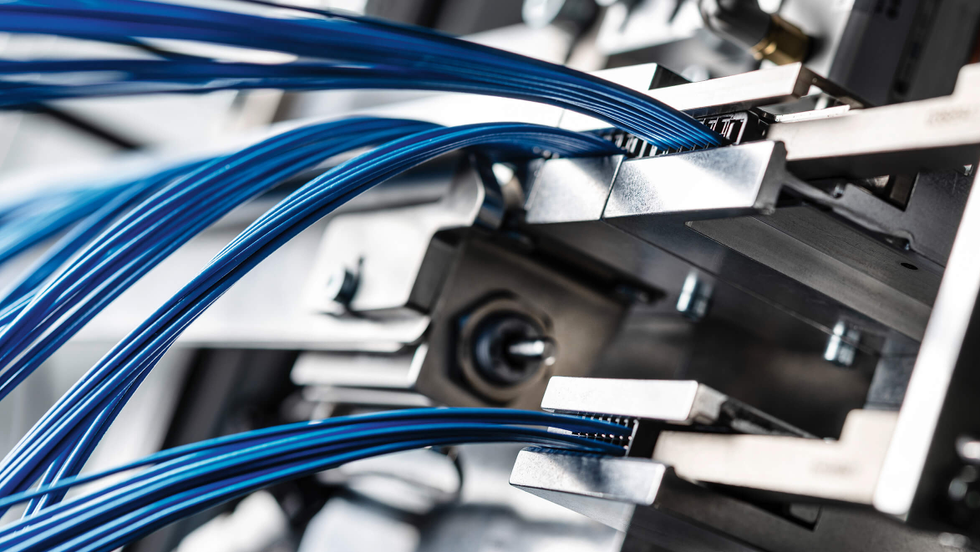 Key insights
The Omega 745/755 has all the advantages and features of the Omega 740/750. The special features are customizable solutions for the feeding and further processing of housings and for the storage of the wire harnesses.

Up to 4 different connector types can be fed simultaneously.

With minimal effort, these application machines can be converted for the production of other wire harnesses. This high degree of flexibility protects our customers' investments.
Omega fully automatic block loader machines can produce wire harnesses of varying complexity and can assemble connector housings on one or both sides. They are the economical answer to ongoing miniaturization and increasingly smaller batches. The automatic wire selector provides up to 36 different cables from the entire cross-section range.
Automatic feeding of the connector housings
The Omega 740/750 models feature two large pallets to accommodate many different connector housings. While they automatically insert the housings on the first pallet, the operator unloads the finished harnesses on the second pallet and loads them with new connector housings. The new Omega 745/755 application machines completely eliminate this process, because here the connector housings are automatically fed in a supply rail.
Up to four different types of housings can be fed at the same time with these systems. In addition, the finished wire harnesses are collected in, for example, a custom-made rail until they are unloaded by the operator. The insertion gripper monitors insertion force throughout the entire process and checks for correct terminal locking. Additional follow-on processes can also be integrated, such as automatic closing of the connector housings' secondary locking, optical process monitoring, laser marking of the connector housings or reading of data matrix codes for product traceability.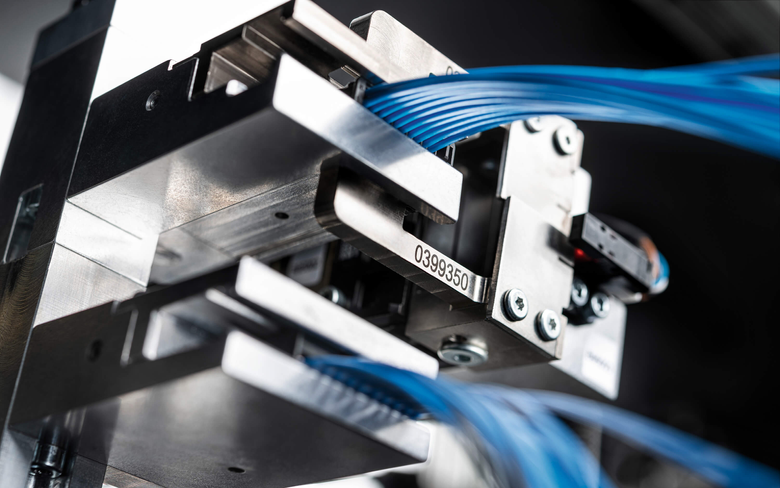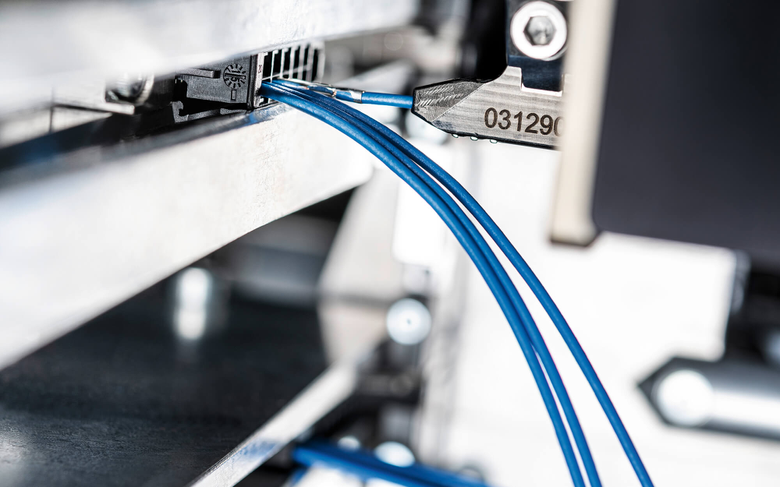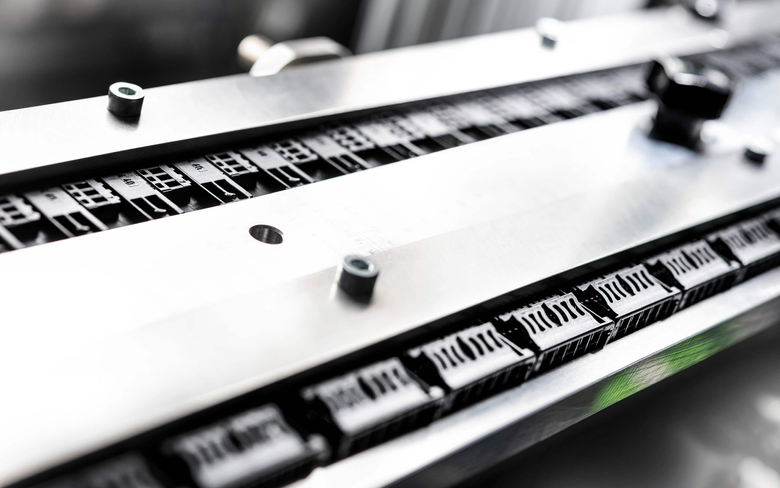 Application machines are custom made
These new application machines take automation a step forward to nearly autonomous production. The operator's role changes completely. Their influence on quality is minimized and they can operate and monitor several machines at the same time, resulting in substantial savings in personnel costs.
The Omega 745/755 is not a ready-made product but a flexible basic machine with intelligent software, interchangeable process modules and customized application components to meet the special requirements and specific needs of our customers. We develop this automation solution individually for each customer, who then profits from decisive economic advantages created with this customization.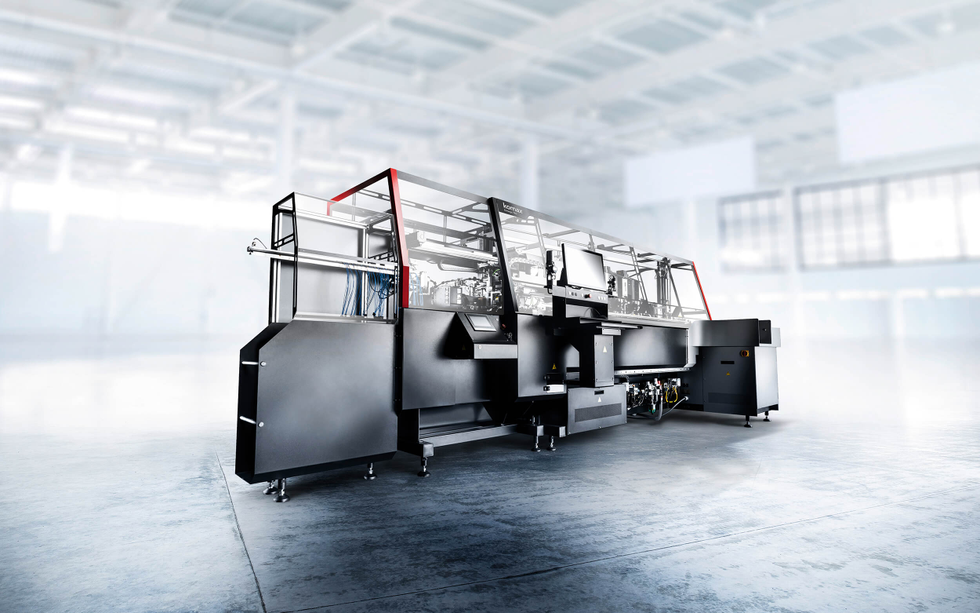 Engineering services at the highest level 
The Omega 745/755 application machines are highlights of our Harness Manufacturing product group. They form the basis for customized insertion solutions and foreground our engineering services along with high efficiency. Komax is the global market leader in the wire processing sector. Our applications allow our customers to benefit from the wealth of specialist knowledge and expertise of the Komax development team, enabling them to find a tailored solution that meets their every need.
Have we aroused your interest? The author is happy to provide you with further information and suggestions.
---
Contact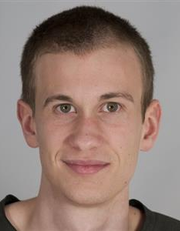 Matthias Felder's career at Komax began in 2014. After starting out in assembly, he first became Product Support Manager of Harness Machines division and has fully embraced this product group since 2022.
---
Never miss a great Story
---