咨询专家
此内容有两种语言版本:德语和英语。
请点击相应的国旗图标,选择您喜欢的语言。
About Komax
The Komax Group is a pioneer as well as market and technology leader in automated wire processing. It is providing its customers with innovative solutions. Learn more about our history, our values and our quality pledge.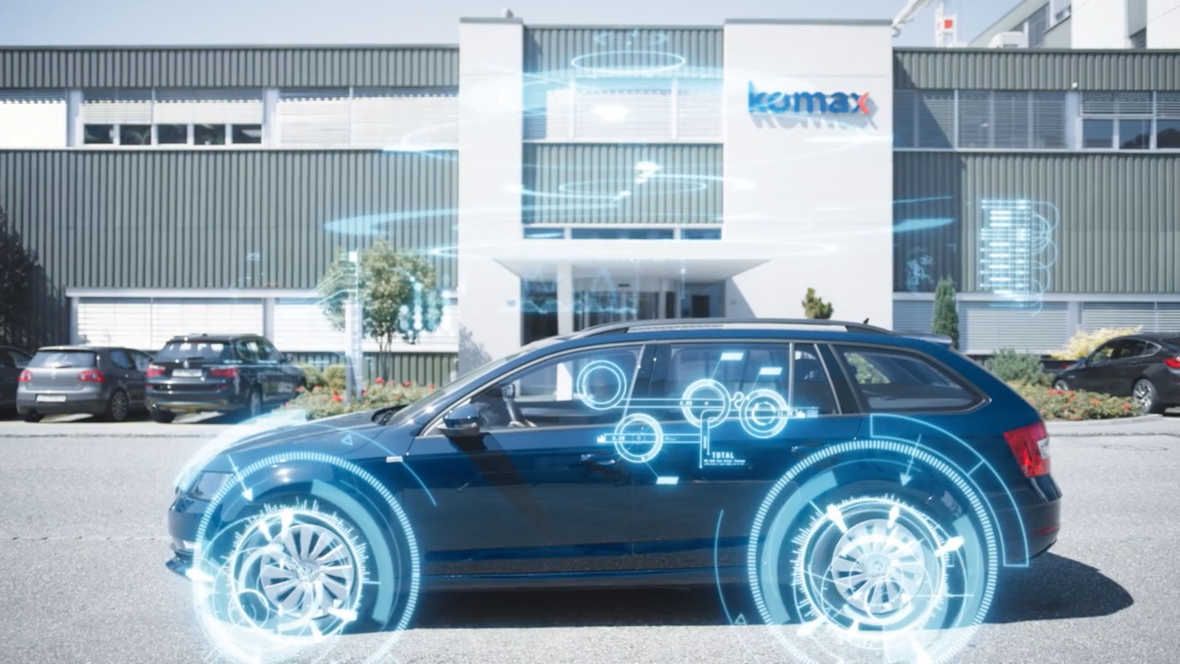 The Komax Group is the world market leader in automated wire processing. In addition to production systems, quality assurance, test equipment and networking solutions come from a single source.
The Komax Group manufactures series machines and customized systems for all levels of automation and individualization. Quality assurance modules, test equipment, intelligent software, and networking solutions complete the portfolio, and ensure safe, flexible, and efficient production.
Environmental awareness, safety, and connected and affordable vehicles are global megatrends that will play a major role in steadily increasing demand for automation solutions. This is because they are leading to more and new types of cables in vehicles, which require increasingly automated processing due to factors such as quality, efficiency, complexity, costs, miniaturization and traceability.
---
---
Customer proximity together with short reaction and supply times are crucial to success of the Komax Group. This is why the company has been applying the motto "global local" for many years now – global production with a unique local sales, engineering, and service network across all continents.
The Komax Group produces standardized products and customer-specific systems. Approximately 3,400 employees in about 50 companies work for the Komax Group. With its production facilities in the world's most important market regions, the Komax Group meets the expectations of its global customers, who demand a local presence of its suppliers.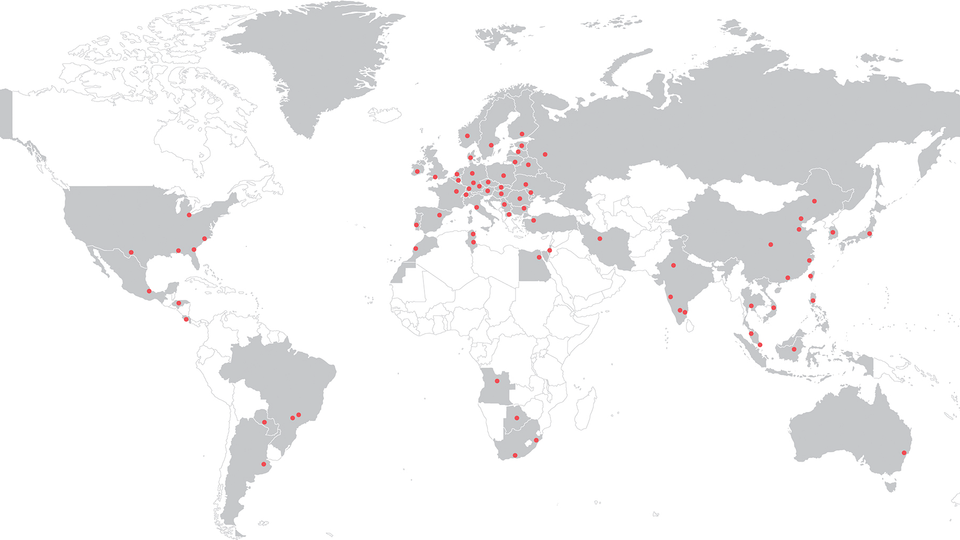 Unique selling proposition: distribution and service network
The Komax Group has a unique global presence that enables it to provide efficient and competent support to its locally and globally active customers at all times. It provides sales and service support in more than 60 countries through its subsidiaries and independent agents. Customers can also submit their orders via the e-commerce platform Komax Direct.
Global Service Network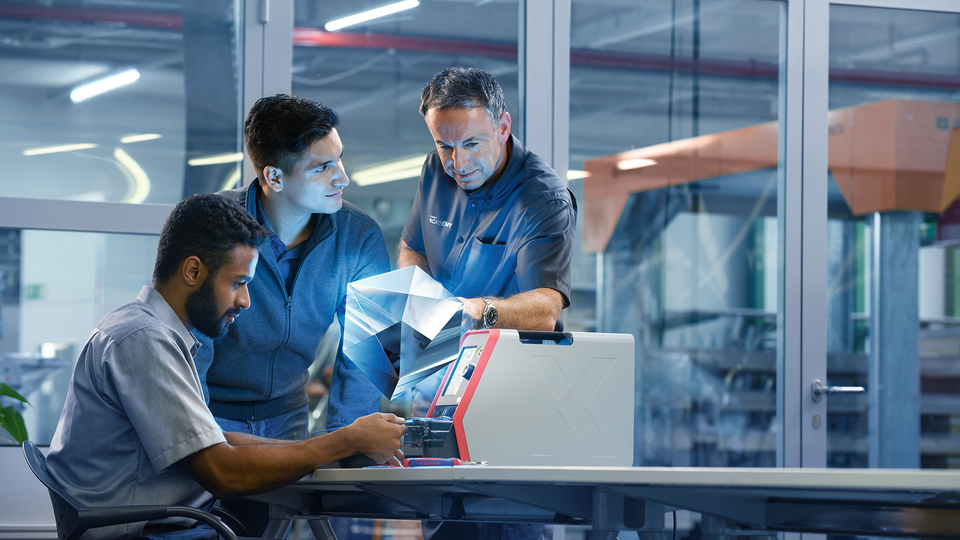 Komax Care – a comprehensive service offering
With its services, the Komax Group is helping its customers to use and maintain the acquired machines and testing systems to their full potential and to minimize outages caused by operating or maintenance errors. The Komax Group provides customers its extensive "Komax Care" service offering. The offering includes the Komax Academy. It provides a modular training program including certification, that is alingend to the various customer needs.
Komax Care Service Contracts
---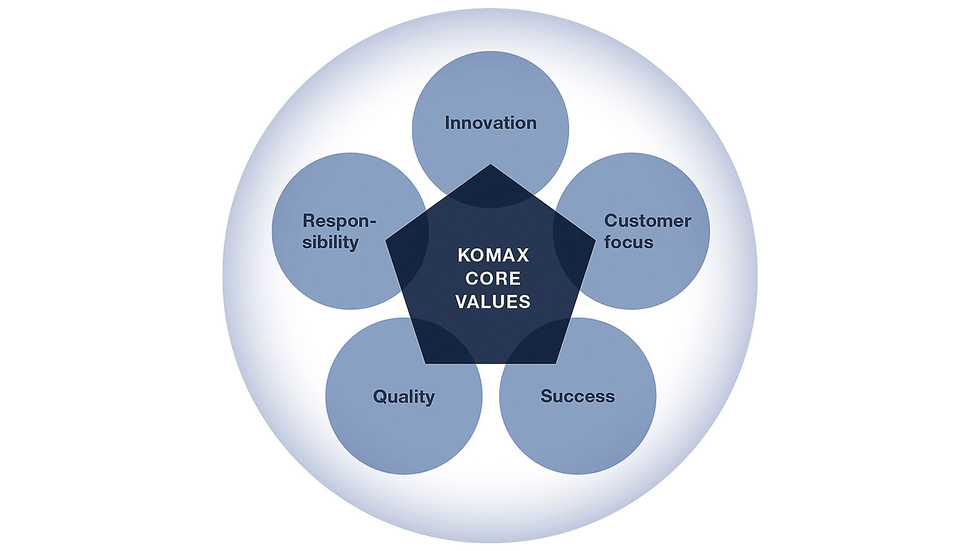 Innovation
As a pioneering and visionary company, we ensure that our business activity has a long-term focus. We are always open to new ideas and regularly re-examine our approach. This includes looking beyond our immediate concerns. We are willing to take risks – on the basis of knowledge and understanding – in order to reinforce our leadership in terms of innovation.
Following new paths can lead to mistakes. We realize and tolerate this because it gives us an opportunity to become even better. We are increasing our lead by continuing to press ahead with innovations proactively, quickly, and determinedly while remaining committed to our usual high quality standards.
Customer Focus
The varying needs of our customers are at the center of our activities. We listen to them carefully and ask the right questions. Understanding their requirements enables us to keep on improving.
We strive to ensure that our solutions offer our customers added value, so that they can increase their efficiency and productivity and thus gain a competitive advantage. We are close to our customers, communicate actively, and foster friendly, long-term relationships and partnerships based on respect and esteem.
Success
We pursue ambitious targets and make an effort to achieve them every day. As a market and technology leader we make high demands of ourselves and strive to find the best solution for our customers. Our long history of success encourages us to continue the success story and create sustainable value.
This benefits our customers, employees, and investors. We want all these stakeholders to share equally in our success. We nurture competent, committed employees who enable us to retain loyal, satisfied customers.
Quality
Our day-to-day work is driven by quality and a willingness to examine what we do critically. We provide our customers with solutions that fully meet our quality requirements and supply what we have agreed. This commitment lies at the heart of our long-term, trusting customer relationships.
Our efforts to keep on getting better include always delivering the agreed quality and actively asking customers how we can improve further. It is clear to us that this creates trust, which is of inestimable value.
Responsibility
We take our responsibility towards our customers, employees, and investors seriously and act as a reliable, trustworthy partner. Our integrity and ability to keep to our agreements and meet our deadlines make us stand out from the crowd.
We keep our word and ensure that our partners and colleagues do so too. A strong sense of shared responsibility is important to us and we are careful to foster it. We take responsibility for our actions, make decisions, and carry them out. If we pass our responsibility on to others, we do so deliberately and ensure that they assume it in turn.
---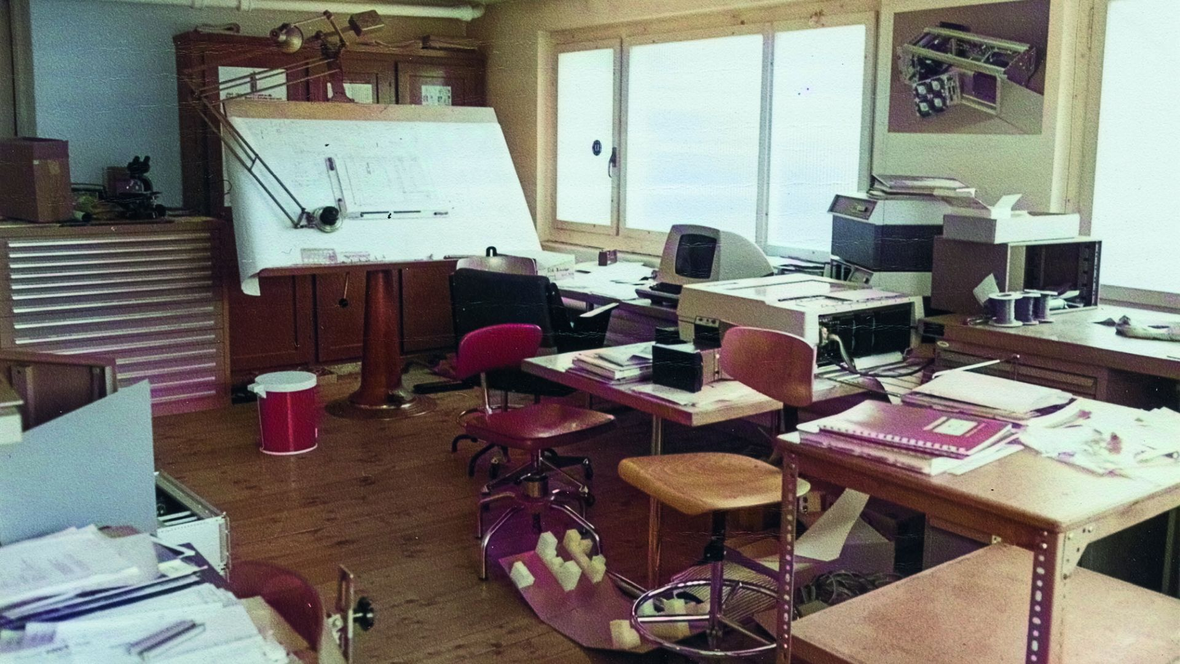 Since 1975 the Komax Group came a long way from a 3-man operation to a worldwide industry leader. On the left you see the very first office of Komax founder Max Koch.
In 1975, Max Koch, holder of a diploma in Electrical Engineering from ETH Zurich, established Komax, choosing a name for his company that was inspired by his own.
The company started out as a three-man operation, based in a garage in Lucerne, Switzerland, producing electrical devices for cars. These included first fully electric speed control device, which gave an audible signal to the driver when the stored speed (60, 80, 100 or 120 km/h) was exceeded.
To manufacture this device as well as others, a number of different wires and cables needed to be processed, which was extremely time-consuming, as no precision machinery was available to take care of it on an automated basis.
Consequently, Komax quickly started developing a wire cutting machine with stepper motor drive – the Komax 20. This machine marked Komax's entry into automated wire processing and at the same time the starting point of an ongoing success story.
Through the constant development of innovative, novel solutions for automated wire processing, the Komax Group has established itself as a market and technology leader over the past decades.
1975
Foundation of the company by Max Koch
1980
Founding of Komax USA
1991 – 1995
Targeted foreign expansion: Establishment of own subsidiaries in Portugal, Germany, Singapore, Brazil and Japan
1996
Management buyout
1997
Going Public: Komax Holding AG listed on the Swiss Stock Exchange
2000
Acquisition of Ascor
2001
Founding of Komax Morocco
2002
Founding of Komax Shanghai
2005
Acquisition of Sigma and Ismeca
2008
Founding of Komax India
2011
Joint Venture with Jinchen China
2012
Acquisition of TSK Group and of MCM Cosmic
2014
Acquisition of SLE quality engineering and sale of Solar business unit
2015
Participation in Laselec and foundation of Komax Mexico
2016
Acquisition of the Thonauer Group, Ondal Tape Processing and Kabatec and takeover of assets of SLE Electronics USA; also sale of the Medtech business unit
2017
Acquisition of assets of Practical Solution and acquisition of Laselec
2018
Asset deal with TE Connectivity's Application Tooling business unit (distribution business USA, Canada, Mexico)
2019
Acquisition of Artos Engineering and Exmore and establishment of Komax Thailand
2020
Move into the new vertical factory in Dierikon
2022
Quasi-merger with the Schleuniger Group and foundation of Komax Testing India
---
Our day-to-day work is driven by quality and a willingness to examine what we do critically. We provide our customers with solutions that fully meet our quality requirements. This commitment lies at the heart of our long-term, trusting customer relationships. The Komax Group complies with applicable laws, legal provisions, and other statutory requirements as well as with the relevant standards (ISO 9001, ISO 14001, and ISO 45001) and is constantly improving the effectiveness of its Integrated Management System (IMS).
We expect our partners and suppliers to meet the same high quality, environmental, health and safety standards that we do.
---