Talk to an Expert
Electronics technician EFZ
Shape your future
Electronics technicians manufacture electronic devices or systems, carry out measuring and testing work, commissioning or maintenance work. As the global market leader in automated cable processing, we open up a fascinating world to you. With dedicated trainers and a good working atmosphere, we offer you the apprenticeship you are looking for.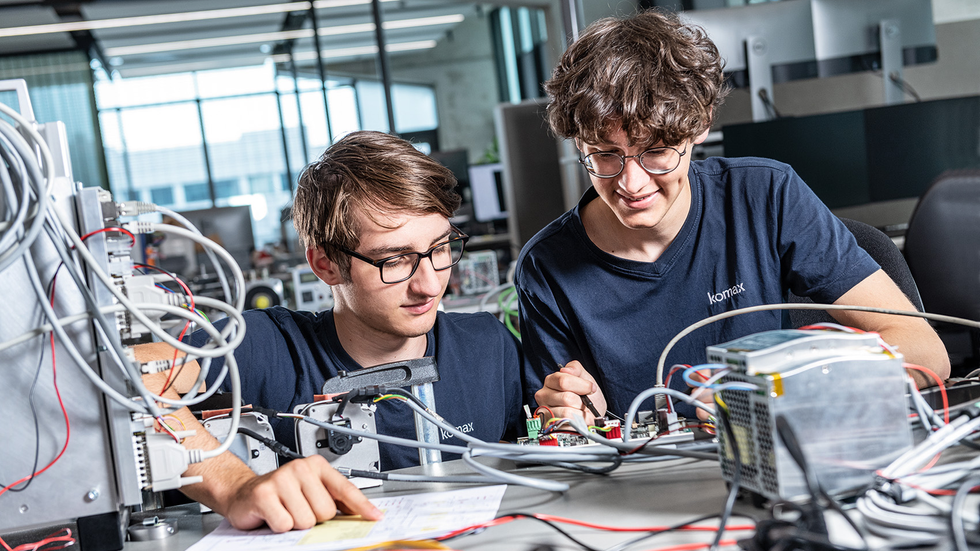 As an electronics technician, you develop and implement electronic circuits and computer programs. You work in a team with other specialists. Processing orders and projects, monitoring manufacturing processes for electronic products, creating technical documents such as development reports - these are just some of your tasks.
Electronics technicians also manufacture electronic devices or systems, carry out measuring and testing work and are responsible for commissioning and maintenance.
The in-company training consists on the one hand of a basic training, which is broadly based, and on the other hand of an in-depth training in at least two fields of activity. The choice of the fields of activity depends on our possibilities and your inclinations and abilities.
What you should know
Apprenticeship period: 4 years
⁠Next start of apprenticeship: August 2024
⁠Main training location: Komax AG, Industriestrasse 6, 6036 Dierikon
School: Emmen Vocational School
What you do exactly
Developing electronic circuits

Creation of manufacturing documents (e.g. schematics)

Manufacturing electronic assemblies and assembling entire devices

Measuring and testing electronic circuits, devices or entire machines

Working out control and test procedures

Writing protocols, documentation and reports

Developing customer-specific solutions

Program development: creating software

Building prototypes and test setups

Error analysis and troubleshooting of electronic circuits or entire machines

Production support
What you should bring with you
The focus is on the technical/craft direction, so an interest in this area is an advantage. At Komax, we also offer optimal conditions for women to succeed in STEM professions (mathematics, information technology, natural sciences and technology).
School requirements
Secondary school (level A) or cantonal school with a good degree
Personal requirements
Pleasure in experimenting and tinkering; respectively in technology in general

Interest and good performance in mathematics and physics

Pleasure in working with computers

Eagerness to learn, ability to think analytically, ability to think abstractly and precise way of working

Well-developed ability to express oneself verbally and in writing

Ability to work in a team
---
Contact us!