Talk to an Expert
Computer application technician EFZ
Shape your future
Computer scientists develop applications together with other specialists, take over support or define the generalist orientation. As the global market leader in automated cable processing, we open up a fascinating world to you. With dedicated trainers and a good working atmosphere, we can offer you the apprenticeship you are looking for.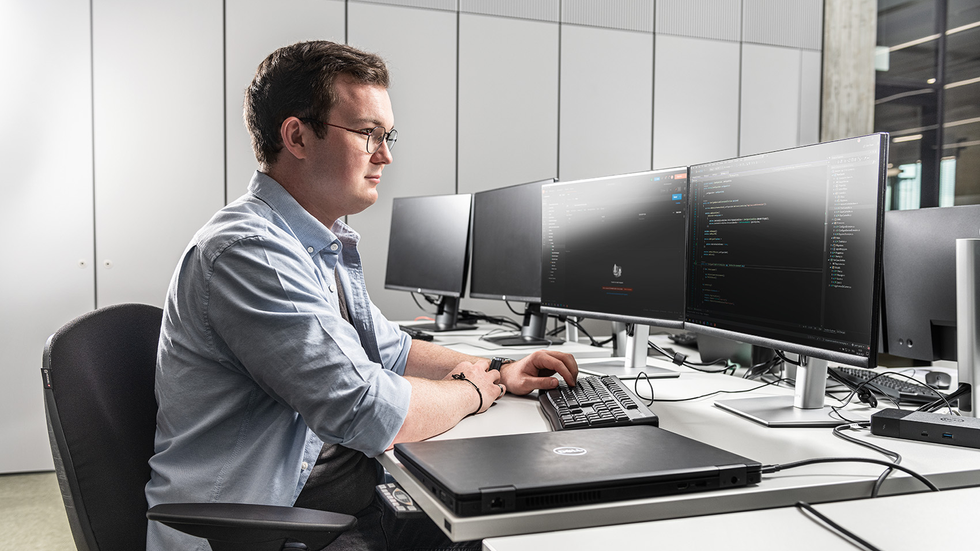 As an application developer, you make sure that our computers work for us: You develop, maintain and service the software solutions that Komax uses to provide its services to customers.
Your responsibilities will include programming, planning, installing, training, operating and maintaining IT systems and applications. You will be particularly involved in software solutions for machine control and graphical user interfaces. You will work in a modern software development environment. In addition, you will answer support requests from users and support them at their workstations.
In the first year of your apprenticeship, you will work in Rotkreuz in our learning workshop with other apprentices in a team. In the second year of your apprenticeship, you will move to the internal IT department in Dierikon.
What you should know
Apprenticeship period: 4 years
⁠Next start of apprenticeship: August 2024
⁠Main training location: Komax AG, Riedstrasse 18, 6343 Rotkreuz (1st year of apprenticeship)
Komax AG, Industriestrasse 6, 6036 Dierikon (from 2nd year of apprenticeship)
School: Sursee Vocational School
What you do exactly
Realizing software solutions for machine control and graphical user interfaces

Creating programs for efficient processes and workflows

Maintenance, support and further development of software solutions as well as troubleshooting

Establishing requirements, creating design concepts, programming, testing and rolling out software solutions

Working with a modern software development environment to create programs
What you should bring with you
The focus is on the technical/craft direction, so an interest in this area is an advantage. At Komax, we also offer optimal conditions for women to succeed in STEM professions (mathematics, information technology, natural sciences and technology).
School requirements
Secondary school level A, average grade ≥ 4.4

Secondary school level B, average grade ≥ 4.8

High school, average grade ≥ 4.3

Good assessment for work and social behavior
Personal requirements
Pleasure and great interest in dealing with IT technology

Interest in technical and operational contexts

Fluency in linguistic expression

Enjoyment of the English language

Analytical thinking

Systematic, precise way of working

High willingness to learn and perform

Willingness to work nights, Saturdays or Sundays

Ability to work in a team
---
Contact us!